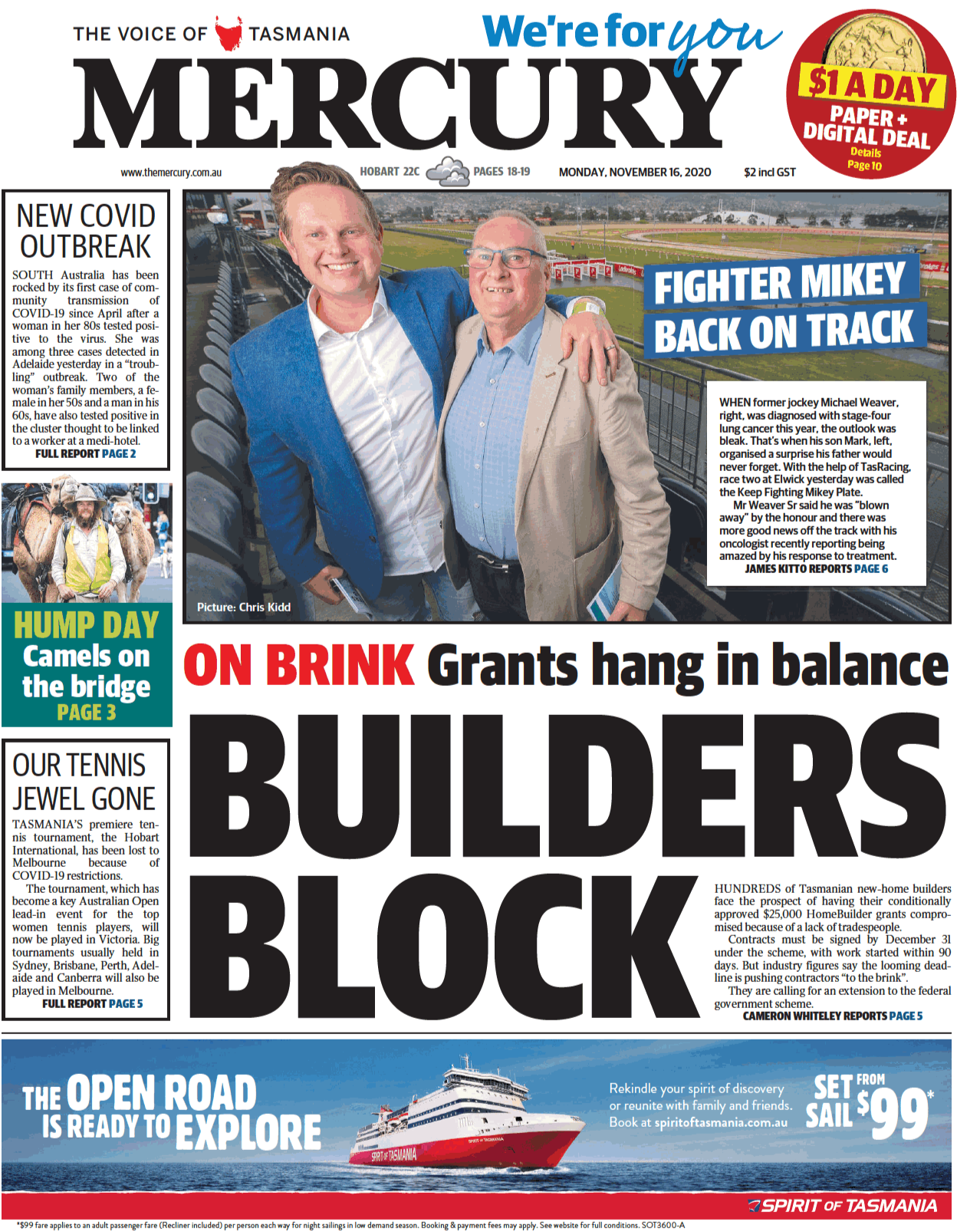 Builders Block: HomeBuilder Timeline Pressures Push Industry To Brink
AN "unrealistic" time frame and a potential shortage of tradespeople threatens to compromise the plans of hundreds of Tasmanians who have been conditionally approved grants to help build new homes across the state, The Mercury reports.
Industry figures are calling for an extension to the federal government's HomeBuilder scheme because to be eligible to receive the grant, home builders need to start work within 90 days of a building contract being signed.
Under current rules, contracts must be signed by December 31 and the looming deadline is pushing contractors "to the brink", Master Builders Tasmania executive director Matthew Pollock said.
"Anyone who has designed and built a home would know that 90 days is not enough time to get a project off the drawing board," he said.
"On a good year, it takes an average of 77 days between a building approval being granted and building work commencing. This year is not a good year."
The HomeBuilder program was introduced as a post-COVID recovery measure to stimulate economic activity, with Tasmanians able to apply for a combined $45,000 of state and federal grants.
The federal component provides for $25,000 to build a new home or substantially renovate an existing one, while the Tasmanian scheme offers $20,000 for new builds.
Premier Peter Gutwein last week wrote to Federal Housing Minister and Assistant Treasurer Michael Sukkar to ask the federal government to extend HomeBuilder beyond December 31.
Mr Gutwein said if the federal scheme was extended, that would also happen in Tasmania, while also asking for eligibility criteria like the construction commencement deadline to be reconsidered.
e COVID crisis. "We hope to see the final stage of regulatory reforms before parliament soon and continued bipartisan support to cut red tape." Mr Pollock said.
As of this week, Tasmanians have made 619 applications for new home builds under the Commonwealth scheme and 100 for substantial renovations.
Of those, 244 have been conditionally approved and 49 have been paid out.
Under the Tasmanian grant, 448 applications have been received, with 171 conditionally approved and 33 already paid.
One Tasmanian couple who has benefited from the scheme is Georgia Franks, 27, and Kase Miller, 31, who are building their first home at Mornington.
They bought the block of land last year and work will soon commence on their new three-bedroom home, which is expected to be complete within 12 months.
Ms Franks said the HomeBuilder grants had provided a welcome boost.
"It's made a massive difference. We've had a fair bit of extra costs come up for our block so it's going to help go towards that," she said.
The couple is building their new home through Ronald Young + Co Builders, and Ms Franks said the company had been helpful throughout the process, including advising them about how to access HomeBuilder.
The company's managing director Paul Burnell said the program was having the desired effect.
But he said while the industry was grateful for the support and benefits the scheme provided, current timelines were unworkable and needed to be reviewed.
Mr Burnell said if the time frames were not relaxed, the availability of tradespeople would be compromised early next year.
He said delays in land titles and council approvals were also causing issues, suggesting the requirement of commencement of the build be extended by a minimum of three months.
"Our industry is grateful that the government has supported them in the tough times and it helped keep a lot of people employed and a lot more people busy," he said.
"We just think the time frames are unworkable and a small extension would allow the workload to be spread out over a lot longer period."
Mr Sukkar said HomeBuilder was achieving its purpose, igniting the construction industry and helping to protect jobs.
"I appreciate the great work that the Tasmanian Government has done to assist in the impelementation of HomeBuilder," he said.
"We are continuing to assess the program, recognising it has been an enormous success, and will make further decisions closer to its current scheduled end date."
State Labor leader Rebecca White said she also supported an extension to the scheme, saying the current eligibility timelines were unrealistic for many.