The Master Builders Election will be held on the 29th of October. The election will be undertaken via postal ballot. The Ballot opened on the 29th of September, and you should be receiving your ballots in your letterbox this week.
 This year, following changes to the MBT Constitution, Board positions are split into regions and sectors. The Board will be made up of 10 Board members, comprising of:
2 – Southern Region
2 – Northern Region
2 – North West Region
2 – Housing Contractor Members
2 – General Contractor Members
All members from the respective region and member category are eligible to vote for the respective Board positions.
For example, if you are a Housing Contractor member in the Southern Region you get 2 votes, 1 for the Southern Region Board candidates and 1 for the Housing Contractor Board candidates. You can vote for the same person if they are a candidate in more than 1 category.
The postal ballot will close on the 27th of October at 10.00am.
The election results will be declared at the AGM on the 29th of October.
All candidate bio's can be found in alphabetical order below.
North Western Region
John De Jong – Director, De Jong & Sons Constructions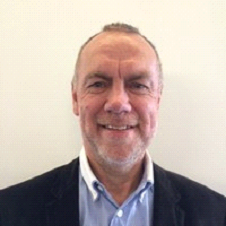 Our business, De Jong & Sons Constructions Pty Ltd has been in the industry for 66 years and a member of the MBA for nearly 48 years. I have previously been a regional chairman and State President in the 1990's and served on the National MBA Board during my time as President. Our company has always been a strong supporter of the industry and training and continues to run a strong apprentice and traineeship program. I have been a Board Member on several Boards and am presently Chairman of Respect Aged Care, a multi-state residential and retirement village NFP.
Having been Managing Director of our business for 34 years, I continue to be passionate about the industry, embracing its changes and gaining knowledge to work with the continuous changes which are occurring. I have gained valuable governance experience on many NFP boards and am a member of the AICD and completed the Company Director's Course.
David Gates – President, MBT, Director, David Gates Design Unlimited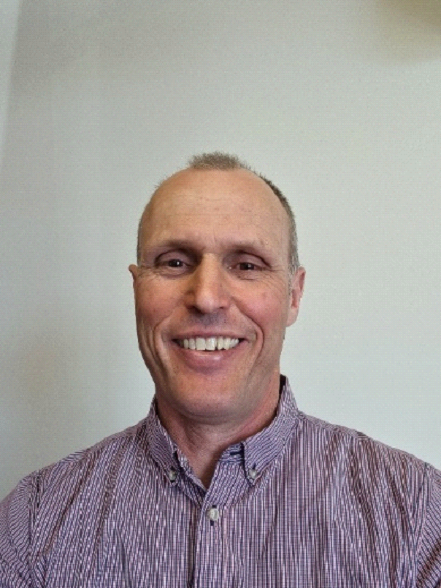 I David Gates seek your vote as Regional Director for the North West.
As a passionate builder I have a long association with MBT having been a member since 1992, the same year as establishing my own business "David Gates Design Unlimited" which has developed into a niche design and construct building company.
My history with MBT includes 7 years as a Board member, previous Regional chair, participation in various sub committees and current Presidency since 2018. I understand the issues that are important to our industry and my diverse experience provides me the ability to communicate at all levels in the best interests of all MBT members.
Covid-19 has shown working together achieves positive results. MBT has a great opportunity through a collaborative approach with stakeholders and partners to deliver lasting results for our members and the wider building and construction industry.
Whilst I intend to step down from my role as President I seek your support to continue on as an experienced member of the MBT Board, to encourage and support a transition to a new board that represents the next generation of Master Builders leaders.
Your vote will allow me to continue my strong representation on behalf of members and contribute to the continued success of Master Builders Tasmania.
Vonette Mead – Co-Owner and Operations Manager, Mead Con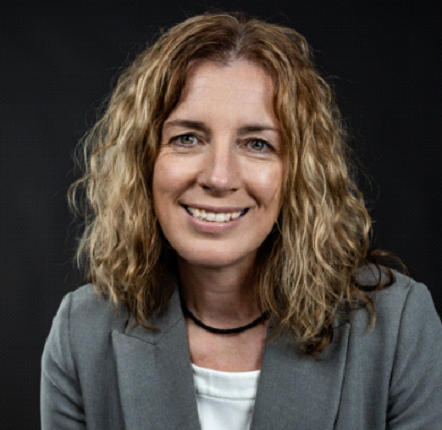 Vonette has been involved in the Construction Industry for over 30 years, working across the residential, commercial, and industrial sectors.
Vonette commits her time to industry and community. Representing industry as the Deputy Chair of the Tasmanian Building & Construction Industry Training Board and committee member on the Cradle Coast Regional Economic Steering Committee, member of education and training working groups and Councillor with Latrobe Council.
A committed Master Builder contributor, Vonette has been Involved with MBT membership on various committees for over 15 years and is the current Commercial Sector Committee Chair. Vonette has been nominated for a position on the board to represent MBT, North West region and the entire membership.
Northern Region
John Faulkner – Vice President, MBT and Director, Faulkner Building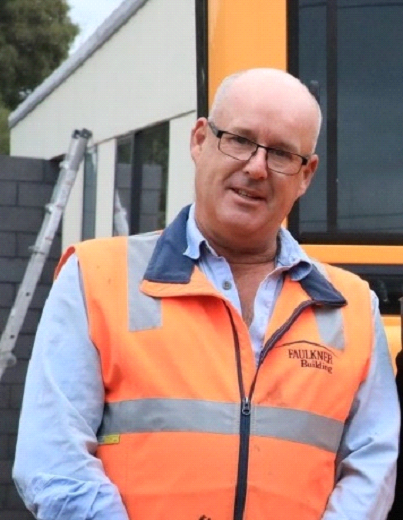 John left school at the age of 16 and started an apprenticeship with a local Launceston construction company, Construct Tasmania. Once completed, he worked as a subcontract carpenter for a variety of builders and established Faulkner Building in 1986.
John has constructed and renovated a wide range of buildings including homes, schools, nursing homes and shops. He first joined the Master Builders Association of Northern Tasmania in 1988 and served as President from 1993 to 1997 and from 2001 to 2002.
John was a driving force behind the establishment of the Tas Builders Group Apprenticeship Scheme which has continued its remarkable growth since both associations joined. He was instrumental in the amalgamation process of the Tas Builders Association and Master Builders Tasmania in 2015.
John was elected to Master Builders of Tasmania Board in 2015 and has been the Northern regional chair since 2018.
He currently serves on the Investment Committee and is the current Vice President of Master Builders Tasmania.
John is married to Sue and has two adult children. He is a Past President of the Launceston Leo Club (Lions Youth) and was involved in his children's school and sporting activities, including coaching rowing and serving as Chair of the school rowing club.
John is looking forward to serving the Association and especially helping the youth of the building industry develop into Master Builders of the state.
Andrew Kilpatrick – Norther Regional Director MBT, Managing Director, Kilpatricks Joinery Pty Ltd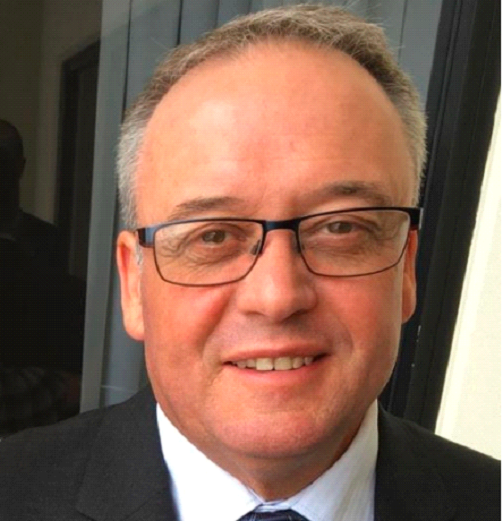 Andrew Kilpatrick heads Kilpatrick's Joinery, a long-established Northern Tasmanian based commercial and domestic joinery manufacturer which specialises in traditionally made solid timber joinery. Kilpatrick's Joinery have been MBT members since 1984.
Andrew's father, Arthur, started the company in 1961. The pair worked together for many years until Arthur's sudden death in 1991. Since then, including a major re-build after a devastating fire, Andrew has led the company to what it is today.
Andrew's son Edward, a third generation Carpenter Joiner, is the company's current Production Foreman. Andrew & his wife of 36 years, Kate, are parents of 3, grandparents to 1, another on the way.
Andrew was involved with his children's school and sporting activities including being rowing club President. Andrew, a keen Rotarian of over 32 years, is a Paul Harris Fellow. He has been a Director with his club for most years, Rotary Overseas Member, works supervisor twice on Rotary projects in Samoa, repairing buildings & cyclone proofing.
Andrew's involvement with MBT started by attending meetings with his father.
Andrew became a State Councillor in 2008. He is now looking forward to continuing his involvement, while promoting the North and helping direct the association in supporting all MBT members.
Southern Region
Rod Betts – Managing Director, CWD Built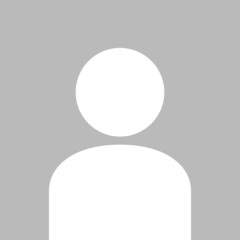 I was born in 1971 in Perth WA. I moved to SA with my parents when I was young before settling in Hobart in 1980 with the family. I started my working life in finances and did this for 3 years before the call of doing something with my hands. In 1993 I started as an apprentice with Laver (now known as VOS). I worked my way from job to job and then into the office, where I was the contracts manager. I left in 1999 to work for myself.
I've been a member of MBA since 1999 when I started my first Building Company with my business partner. In 2008 we closed our business and went our separate ways. I started CWD Custom Windows and remained a member of the MBA. In 2016 I became a southern committee member and in 2017 I was the Southern Regional Chair for 2 years, resulting in me sitting on the board of the MBA. After serving my time as Chair, I was re-elected as a board member and performed this role for another 6 months.
In June 2021, I sold my business and re-joined MBA as CWD Built and now do building works for friends and myself. I believe I now have the time to devote to the MBA and would like the opportunity to provide the MBA with my services.
Away from work, I support Variety Australia and have been raising funds for them for the last 10 years through a charity ride on jet skis that I do each year. I also have been a member of the TFS at Mount Nelson since 2003 and I am currently the Second Officer in charge.
Lyndon Fenton – Past President, MBT and Director, Kineticon Construction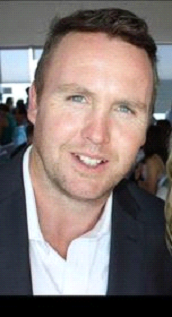 I am delighted to stand for election to the Master Builders Tasmania Board again. I would like to thank members and staff for their support in my roles over recent years.
Having served over the years as Southern Regional Chair, Southern Management Committee member, Housing Committee member, State Council member, State President, and most recently as Treasurer of Master Builders Tasmania, it has been a fantastic experience to learn and my give in these roles. I thank MBT for the opportunity for both personal and professional growth and for putting confidence in me.
Having been a member for 18 years, I'm happy to say MBT is a fantastic organisation and is evolving into a modern association that offers so much. I have seen a lot of things happen in our organisation and the industry, with lots of work to do and this shall continue.
I am a Housing member and being a member of MBT represents the opportunity to come together and build on our community, our solidarity and our sense of belonging.
This opportunity to continue my work and input into all that MBT offers and represents, means that I would get to continue my work with a talented and great bunch of people.
I thank you all for your support.
Lucy Fraser – Manager, Great Bay Construction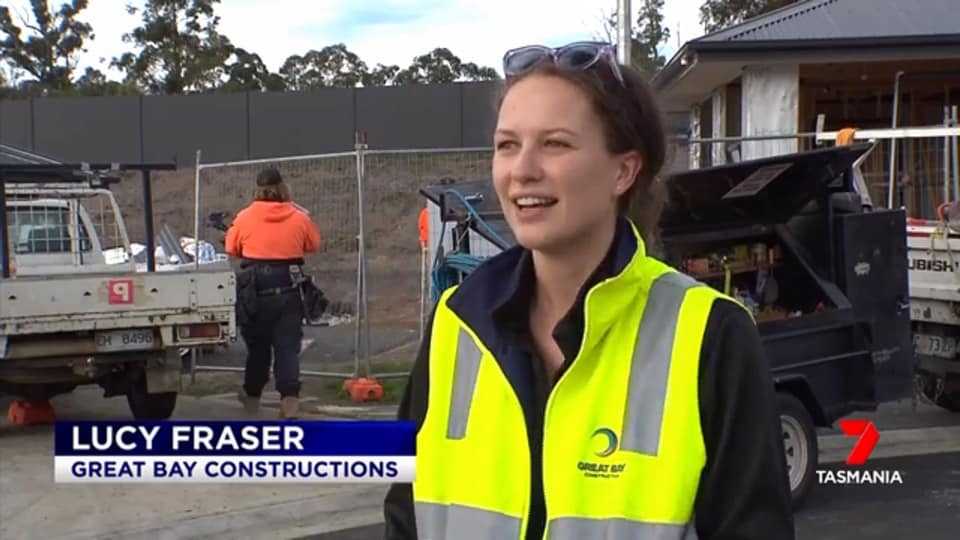 I am a project manager for a medium-sized grassroots residential construction company in Hobart, and I have a demonstrated ability to lead teams of a diverse nature within a fast-paced, complex and highly regulated commercial environment. 
As an active member of the residential construction industry, I have first-hand experience dealing with and overcoming the day-to-day challenges that builders face in the current climate. I am passionate about representing the housing sector and have been an active member of the Master Builders Housing Sector Committee, and the Southern Region Management Committee. I have been asked to participate in various working groups including the PlanBuild Tasmania Industry Advisory Group, which is informing the upcoming launch of the portal for the state-wide management of planning, building, and plumbing application processes – something which I strongly believe can have a significant positive impact on the industry if implemented correctly. 
I have a background in business and event management, completing a Bachelor of Management and graduating with Distinction, which, alongside currently completing my Certificate IV in Building and Construction, has given me a great breadth of experience and a unique lens to approach and overcome challenges. 
As I continue to actively promote and serve members of the industry and the association, I believe my on-the-ground experience and passion for the industry have me well placed to be a valuable member of the board of Master Builders Tasmania. 
I encourage your vote as a Board member for housing and the southern region.
Joel McAuley – Operations Manager at The Australian Reinforcing Company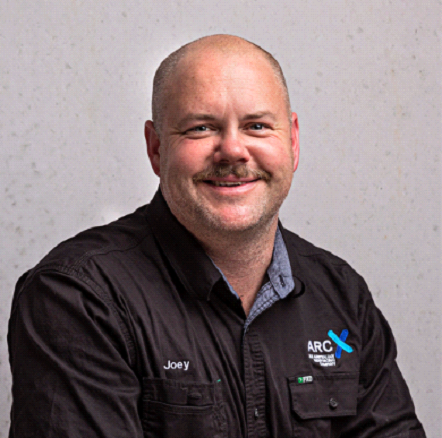 Hi, I'm Joey and I have been a member with Master Builders Tasmania for close to 4 years. In this time, I have completed my Cert 4 and Diploma of Construction. I was honored to receive the B.L Shields Award for Merit in 2020. It was during my Cert 4 that I got some great advice from my teacher David Moody: "As a member, you get out 10-fold of what you put in". I became a member on the spot, and he couldn't have been more correct. It is easy to put in the effort with Master Builders when everyone you spend time with are generous with their knowledge and support. I plan on being an active member for a long time.
Construction is my passion and I have worked up from apprentice, to builder, and now in Operational Management. I respect the 130-year young organisation, and I want it to continue to be relevant and progressive. I have a broad understanding of the construction industry, and I have the time to give back to MBA. I'd be honored and humbled to represent MBT members on the Board.
Denis Reid – Southern Regional Director MBT, Director D J Reid Construction Management Pty Ltd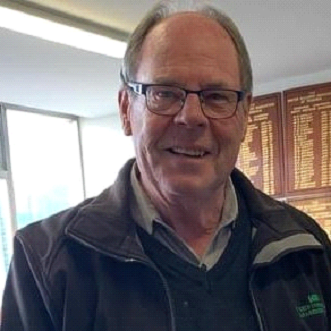 Builder, General Construction: Open
Building Designer: Limited
"Value for service on a professional basis"
I am standing for election as your Southern Regional representative to the Board.
I remain active in the industry in project management, inspections and design and currently contribute to several MBT committees including as a Board member.
Recent contributions include as a member of the Constitutional Committee, Housing Committee, Investment Committee and Regional Sector Committee.
I wish to maintain this current level of participation and, although it is for others to judge, I believe my contribution is beneficial to MBT.
I encourage younger members to share this participation at the Board level whilst at the same time, think it is important to retain some current experienced members on the Board.
I look forward to representing you, the members.
Tim Ribbons – CEO, Wilson Homes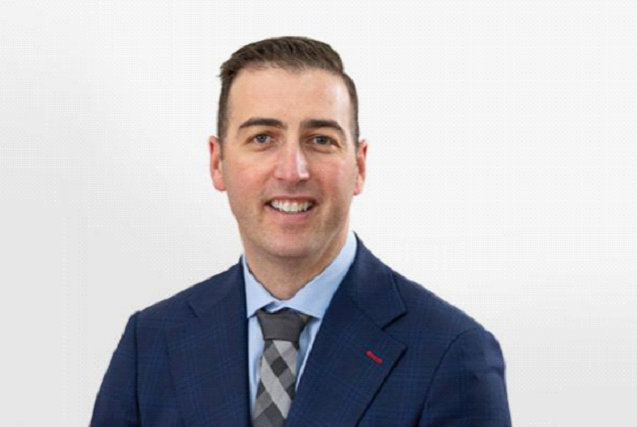 Tim Ribbons leads the team at Wilson Homes, Tasmania's largest residential builder. In the past 18 months he has had to manage the challenges of a global pandemic and a national construction boom as a result of the HomeBuilder scheme. Wilson homes has come out stronger and smarter for the experience and now Tim wants to help the building industry by serving on the Board of the Master Builders Tasmania.
Tim started in the industry 20 years ago as an apprentice carpenter and later progressed into a Forman role before moving into Construction Supervisor and Production Estimator roles. Tim then joined McDonald Jones Homes (NSW, largest residential home builder) in 2011 as part of the Sales Estimating team, he went on to lead the division of the business before becoming the CEO of Wilson Homes in 2017.
Our industry faces many challenges and through his role at Wilson homes Tim has worked firsthand with government and Master Builders to champion the needs of the construction industry. Tim has been actively involved in lobbying government to address supply chain issues on industrial policy, and recent legislative changes to make it easier for residential builders to do business in Tasmania. to provide a voice for industry and push for better outcomes for all.
Being an Executive of the MJH Group, Australia's 3rd largest residential builder, gives Tim the opportunity to oversee and reflect on the industry in almost all states of Australia as well as play a part in the delivery of over 4,500 homes to a year to Australian families.
General Contractor Section
Craig Edmunds – National Board Member MBA, Chairman Fairbrother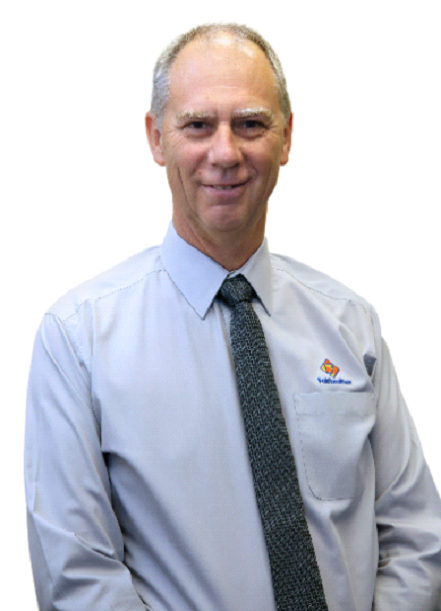 Over almost 40 years, Craig has built an extensive knowledge of the industry, founded by his experience as an apprentice and tradesman.
In 1989 he joined Fairbrother, where he was identified as a future leader and given development opportunities, ultimately becoming CEO and Managing Director in 2003.
Under Craig's leadership Fairbrother grew to expand across regional Victoria. Craig was also instrumental in the acquisition of multi-disciplined services contractor Degree C and has been Degree C's Chairman since 2016.
Craig was responsible for developing a joint venture relationship with John Holland, which delivered major projects such as Risdon Prison, Menzies Medical Sciences, IMAS and the Royal Hobart Hospital.
His passion for Skills development saw him serve the Tasmanian Building and Construction Industry Training Board from 2005-2017.
In 2010 he was elected to Master Builders Tasmania State Council and was State President (2014-2016).
In 2015, he was appointed to Master Builders Australia National Board and, in 2017, he was elected National Treasurer. Craig continues to represent Master Builders Tasmania as our member on the Board of Master Builders Australia and as the Chair of the Master Builders National Work Health and Safety Committee.
In 2021 Craig became Fairbrother's Executive Chairman.
To the industry, Craig brings solid leadership, a focus on innovation and growth, and passion for training.
Nicholas Silcox – Tasmania Team Leader, Hutchinson Builders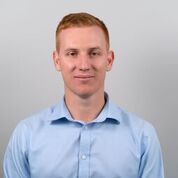 Nick leads the Tasmanian division of Hutchinson Builders in his role as Team Leader. Hutchinson Builders are Australia's largest family owned builder and have enjoyed a wonderful association with the Master Builders, both in Tasmania and throughout the other states of Australia.
Hutchies have been members of Master Builders Tasmania since undertaking our first project in Tasmania in 2010. Since then, Hutchies have delivered over 180 projects across the state, ranging from house extensions to large commercial projects in the Hobart CBD.
Nick sees the commercial construction industry having to adapt to change driven by a whole range of factors, whether it be legislative change, evolving procurement objectives, changes in building standards, proliferation of imported building products or industrial relations. Nick is passionate about ensuring Tasmania stays ahead of this curve and continues to uphold it's reputation for punching above it's weight.
Nick has served as a committee member on the Master Builders Tasmania Commercial Sector Committee since 2017.
Residential Builder Section
Tony Streefland – Northern Regional Director MBT, Director, Streefland Homes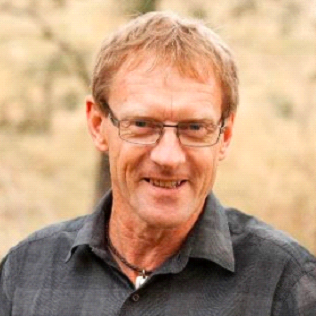 Tony is passionate about the building industry with his focus being residential construction. There have been and will continue to be issues that can make working in our industry frustrating, however, there are also lots of good and rewarding times and these moments are the ones we should treasure.
Tony's Bio:
1982 – established and remains director of Streefland Homes in Launceston.
1984 – enrolled as a builder member with MBT.
1985 – appointed to the Northern Regional Management committee and served as chairman for 2 x 4-year terms.
1986 – voted onto the MBT board by the Northern Region.
1986-1999 – participated on Housing Committee as a Board Representative. Resigned from role; however, continued as an active housing member on the State Housing Committee.
2012 – reappointed to MBT board.
2013 to current – appointed Chair of the Housing Committee.
2013 to current – represented Tasmanian housing members on the National Residential Builders Council of Master Builders Australia.
Our industry needs a strong voice for its members at all levels of Government and on the MBA board, as we will continue to have challenges, as well as opportunities that need representation.
Tony would appreciate members continued support as he feels he can still make a solid contribution for you all.